World Trade Center Toll

The revised death toll at the World Trade Center in New York has been lowered to approximately 3,152. This includes people working at the WTC, visitors, and passengers on the two aircraft involved in the tragic terrorist attack. Originally the estimate was 6000, then later revised to approximately 5000. The city's new calculation method relies strictly on death certificates and a list of missing persons and duplications in the list that have been removed.

This includes passengers and crew on hijacked planes:
American Airlines Flight 11, which carried 92 people, and United Airlines Flight 175 with 65 people on board.

In Washington, D.C.

189 people perished - 125 at the Pentagon and 64 people on American Flight 77.

On United Airlines Flight 93, 44 passengers and crew perished as the aircraft crashed in Somerset County, Pennsylvania as a result of the heroic passengers attempting to regain control of the aircraft after the hijackers took control of the flight and diverted it towards Washington.

The total as of 7 December is 3,385.

After 9-11:
Newspapers throughout the United States have tried to memorialize the 3,385 victims of that vicious attack. The newspapers have been writing articles about each of the victims accompanied by pictures of the deceased and their loved ones. The stories have been positive and have told of the accomplishments, dreams, ambitions, and stories about the families that they have left behind. We are deeply saddened as we have learned about the children that they have left behind.

Most of our business colleagues, customers, and friends have been so touched by these tragedies that they are drawn to these stories in the newspapers day after day. This is not a morbid curiosity. We want to remember those innocent souls that have been so cruelly torn away from their families. They have faces that we have now seen. They have families that we now know…and we share their grief. Americans and people around the world will not forget them.

For those readers that are unfamiliar with our website, during October and November we had a hot link that showed people around the world who shared our sadness. If you care to review it, please turn on your computer's speakers and go to http://user.icx.net/~jimloy/usa/thank_you.htm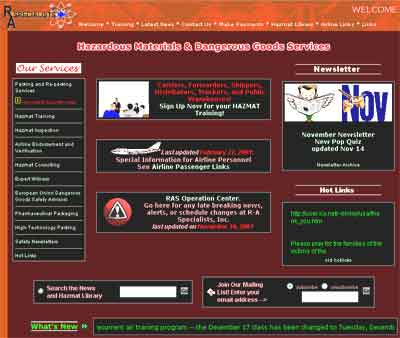 Our website:
We would like to take a moment to provide you with some guidance. Many visitors have taken the time to examine it carefully. We do not try to sell anything on this website other than to tell you what training programs our company conducts as well as give you a list of services that we provide. We try to provide as much educational material concerning dangerous goods/hazardous materials as is practical each month. We feel that dangerous goods information is better-absorbed when taken in small bites.

Check out the rest of our welcome page...

On the left hand side we list our services and explain what we hope to accomplish. We encourage you to click on the Newsletter and the Hot Links for explanatory information.

In the center of the Welcome Page we have links to our training schedule. If you click on a specific training program please note that the new page will have a clipboard image which itself can be clicked on for more information about the training.

Below the training information is a special link for airline employees and airline passengers - after all, 75% of our business is airline-related. This link provides you with further links to the U.S. FAA and IATA. The fifth link ought to be reviewed by airline mechanics and maintenance stores personnel to remind them about dangerous goods that they may be taking for granted. We have been dealing with airline maintenance and stores personnel for almost 50 years and with airline purchasing departments for 26 years. Oxygen generators and electric storage batteries have generated the most enquiries. Believe us. That link is worthwhile and if it sparks your memory or leads to a question or two feel free to contact us. Don't be shy - we try to help everyone when it comes to airline safety.

The third item in the center of our welcome page is a link to the "RAS Operations Center". Click on the Operations Center to find out if our operations are normal or when we might close to celebrate a U.S. Holiday. We provided extensive information about airport closures in the New York Area on 11 September and the terrible days that followed. We will use this area of our website to advise when a particular training class is re-scheduled due to inclement weather or other emergency or when our training facility has reached capacity for a scheduled training class.

At the bottom of our Welcome Page we have a search engine - pick any topic - a single word or a phrase - if we have covered it in past newsletters or in any other format you will be linked to the information you may want. Also at the bottom of the center column of the Welcome Page is a place to enter your name and e-mail address if you wish to be alerted to special information such as training schedules or important information.

At the bottom line of this page we have a "What's New" section. A schedule change has been listed for the last few weeks and a reminder that our 2002 schedule has been delayed. We would also alert you to a significant change in a regulation in this section of our website.

On the right hand side of the Welcome Page we have a link to our current newsletter and quiz as well as a link to older newsletters in case you want to download some information that might be helpful to you.

Just below the Newsletter Link is what we call "Hot Links". Since 11 September it has mostly dealt with that topic but normally we will put some urgent information or particularly useful and timely material, usually via still another link. And you can check out older links there as well. Special information about almost anything that is important and dealing with hazardous materials is likely to show up in our "Hot Links".

The very top of our Welcome Page provides further links. The one on the far right gives links to the FAA, USDOT, IMO, IATA, ICAO, Transport Canada, The Hazardous Materials Advisory Council, and some professional organizations that we have worked with and hold in high esteem.
COOKIES:
R-A Specialists does not use cookies. Your privacy is important to you, and to us. We cannot trace who visits us and you are welcome to copy anything you desire off our website. Our only request is that you use the information to further the ideal of safety in transportation.
Feedback:
We have received many favorable comments about our website. Although the staff at R-A Specialists would just love to take all the credit for it and claim genius status, we really have to thank our webmaster, Tom DeLiso, who can be contacted at:
http://www.iwcs.cjb.net
Thanks, Tom. You deserve the plug.

---
To all our visitors:
Happy Hanukkah! Merry Christmas! Happy Kwanzaa!
…And, to all, a Happy New Year.

Your HAZMAT quiz forDecember, 2001:
Just roll your mouse over the for the answer!


We have used up a lot of space with this newsletter so this month's quiz will consist of six questions...

---

quiz popup may not work well with aol browser.

if you experience difficulties please use Internet Explorer

Comments about this quiz? You can send them to:

info@r-a-specialists.com